Audrey's Testimony
Christian Overcomers camp blesses me. I have a lot of fun at camp. I have fun bringing all my friends with me. I have fun singing, and having my own care taker. And, they've been by my side through my operation, they were there for me. I have a lot of fun at Christian Overcomers.
When I first came here I was baptized by Rev. Singletary. Rev. Singletary baptized me and before I came to Overcomers I wasn't baptized before. Christian Overcomers is part of my family.
I met new people at Christian Overcomers, and I love Debbie and John and Amy.
All of the messages I take home to my friends, that's why they come with me. I liked the messages this week.
I like Christian Overcomers because I like to run around and have my own freedom. When I'm home I can't have my freedom.



I bet the song I sang inspired everbody.
________________________________________________________________

What Christian Overcomers Means to Me by Liz Unger
My name is Elizabeth Unger, and I am 31 years old. I have cerebral palsy. I need a wheelchair to get around; I cannot walk on my own. I live at home with my Mom and Dad in Wyckoff, New Jersey.
My Mom and I read an article about camp in our local newspaper one day many years ago. I was very excited to hear about a place where I would feel accepted, and not stick out because of my disability.
I have been going to Christian Overcomers camp for more than 10 years. It has helped me to feel more independent. The counselors are really good and very helpful, and they treat me with respect. I have met some wonderful people there, and I have made some very good friends.
Being at camp gives me hope because of the positive messages that I hear all week. The Pastors are all wonderful – they make me laugh and cry at the same time, but mostly I am filled with joy. We have a lot of
fun - I can go swimming, play games, and hang out at the snack shop.
One of my favorite things that happens during camp is the campfire that we have on the last night that we are there. We sing songs, have S'mores, and talk about how our week was. Everyone gets a chance to take the microphone and talk about what camp means to them. It is a very special night!
I can't wait to go to camp again this summer!

__________________________________________________________________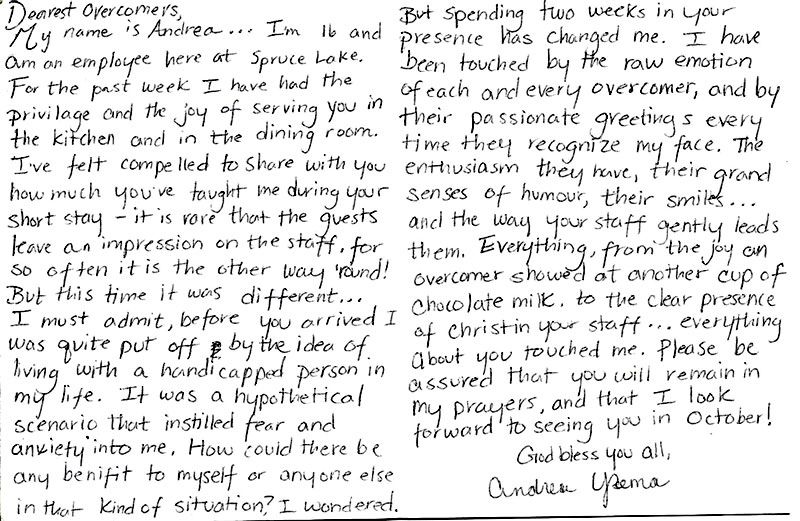 __________________________________________________________________

Emailed Testimonials